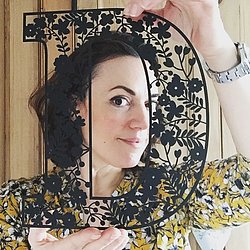 Once upon a time there was a little girl who loved to draw.
These days the girl is quite a lot older — is a mummy to twin toddlers who were born in 2013 — and the drawings are miraculously brought to life in the form of papercuts!
There's something absolutely magical about seeing a design appear in the paper. All of my papercut products are lovingly designed by me and cut by state of the art laser technology. As well as personalised papercut pictures I also design and produce wedding favour tins, birth announcement prints and greetings cards.
I work from a little shed in our garden whilst trying to juggle everything that being a work-at-home mum entails. Life is full and chaotic but creating lovely things for people to keep — and treasure — is one of my favourite things to do. It's more than just paper at the end of the day. I like to think that my designs capture memories.