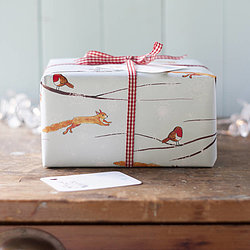 Smashing things for children and their grown ups; designed with a sense of fun and occasion by me, illustrator Gabriella Buckingham, BA Hons. None of these products are available in any bricks and mortar shops!
Beautiful stationery, personalised greeting cards, hand painted wooden Christmas decorations, prints and gifts designed with the family in mind. When my children were toddlers I started to make personalised presents for their friends birthday's and began selling my ideas at craft fairs in Norfolk. If you look through the Moobaacluck shop you'll find perfect gifts for new babies and their parents, plaques for children's bedrooms, birthday cards for grown ups too, several prints and wrapping paper for everyday occasions and Christmas. Many of my products can be personalised with a name, date or message for a truly thoughtful gift.
The wood decorations are either laser cut in Scotland or cut by hand by a talented Norfolk craftsman. My wrapping paper is printed using vegetable inks and all my cards and prints are printed by me here using FSC accredited paper stock. The teatowels and badges I design are made by British companies and packed for you by me in my home office - as is every single order!
Most of the time I work in an octagonal summerhouse in our wild garden, joined by bees and butterflies in the summer and less welcome spiders in the autumn. I'm fortunate enough to live a few miles from the sea which is very welcome on a hot day in the studio..
A member of ACID - Anti Copying in Design, I have illustrated for a wide variety of clients over the last twenty years such as Waitrose, Lloyds Bank, Sainsburys, Homes and Gardens Magazine, Ladybird Books, PaperHouse, Camden Graphics, Dorling Kindersley, Rosentiels, Red Lion, Red Robin Books, BBC TV, Oxford University Press to name a few.
Moobaacluck has appeared in local and national Press : Norfolk Magazine; Homes and Antiques, The EDP Newspaper, Crafts Beautiful and Country Living Magazine.