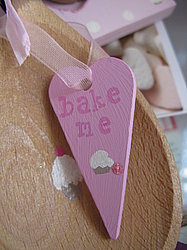 Mollycupcakes has a unique range of hand made and hand painted wooden kitchen and gift items, including packs of painted peg, dotty heart decorations, sugar mice heart gift tags and new to Mollycupcakes hand-sewn scented pin cushions. Over the next few weeks I'll be adding some of my kitchen items which include eggcups, honey drizzlers, pastry brushes, mini and large rolling pins and wooden spoons.
Also Christmas items, Valentine hearts and pegs, Easter gift tags and eggcups, Halloween tags and pegs, Mothers and Fathers day pegs and gift tags, wedding and new baby favours and many more lovely temping items
I've been running for about eight and a half years now and I'm enjoying every part of having my own business, working from home and being able to fit it in with family life as well.
Please note all items are hand painted by myself so may vary and won't look mass produced.
So please come on in and have a look around Mollycupcakes. The kettle is on and the treats are baked. Pick up a gift or two. Feel free to ask any questions and please leave feedback.
Catherine