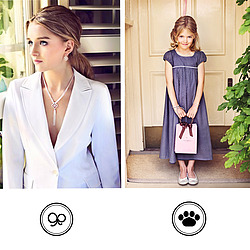 Molly Brown London houses two jewellery brands, Molly B Couture a beautiful fine jewellery collection for women and Molly Brown, the UK's leading children's brand dubbed 'Tiffany for girls by Vogue.
Molly Brown - The UK's destination brand for children's jewellery, offering endless gift solutions for christenings, birthdays, bridesmaids and Holy Communion. The collections are sterling silver and all pieces are fully adjustable designed to fit most sizes and therefore the pieces are truly keepsake.
Molly B Couture - jewellery is defined by romantic, timeless designs and glamorous, feminine collections. The jewellery has an enduring beauty and will illuminate your style and become your signature. A fine jewellery collection of unparalleled simplicity and loveliness.
Sumptuous jewellery boxes and gift bags are central to the Molly Brown and Molly B Couture Jewellery Collections.
Molly Brown jewellery is protected by a silk pouch, inside an exquisitely pretty jewellery box. Molly Brown London gift bags and ribbons are also provided with all purchases. After all, every girl loves to swing a bag.
Molly B Couture jewellery pieces arrive in baby-soft polishing pouches, inside luxuriously pretty jewellery boxes. Molly B Couture gift bags are also provided with all purchases.
Customer Service is extremely important to us. If we can help advise on a suitable purchase, or if it's just not right, we are happy to help with a return. MOLLY BROWN OFFERS COMPLIMENTARY PERSONALISATION.