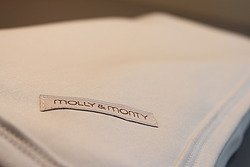 Hi, my name is Melissa and I am the proud owner of Molly & Monty. At Molly & Monty we produce Organic Baby Essentials for all the little people out there! We aim to provide you with beautiful organic baby clothes - whether this be as a gift or for someone who just wants to treat their little one.
Having had a child I know only too well the importance of what you use against your baby's skin - whether this be products or clothing. Their skin is much more sensitive to our own therefore it only seems natural to dress them in fabrics which we know have not been treated with any chemicals or pesticides.
Our clothes are made from thick organic cotton, which means they are 30% thicker than the normal baby clothes you will buy from most non-organic suppliers. This extra thickness helps keep babies warm in the winter, means the clothes feel thicker and softer and they will last longer. We don't use itchy labels and the ink is baby friendly too as it is water-based.
All of Molly & Monty clothes are designed and made in the UK - so not only are we supporting home-grown expertise, we are limiting our global footprint.
I hope you like what you see - please do contact me if you need any further information.
Many thanks! Melissa