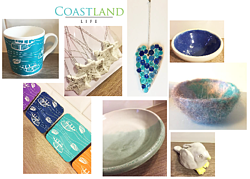 Designer Sarah Mallett graduated with a BA hons (1st) in Fashion and Textiles in 2002 and subsequently has designed clothing and accessories ranges for many high profile companies.
Sarah Mallett developed 'Coastland Life' to celebrate the Cornish coastline and lifestyle. Products are handmade and made in Cornwall. Colours and themes reflect the natural environment and seaside villages. Items include bone china mugs, coasters, handmade 100% wool felt bowls and framed felt art, jewellery and ceramics.
All gifts are unique and individual and are all made with love and care.
All gifts are gift wrapped in white tissue paper and mugs are in boxes.