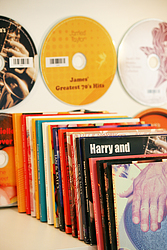 Remember how brilliant it felt to receive a mix tape? We Pixies at MixPixie believe that the gift of music is one of the most unique and thoughtful gifts you can get, so why not make it personal? Dubbed by the UK press as 'Moonpig meets iTunes' at MixPixie we're extremely proud to be the only company in the world that allows people to create truly personalised music gifts, from our personalised CDs to our nostalgic mp3 players and best-selling sound wave prints.
All our products are individually made by the Pixies at our studios in Richmond and we have for instance over 1,000 CD designs for personalisation and with over 32 million tracks to choose from, across a huge range of different products, so you won't be disappointed. Fans of vintage design will love the way we approach creating new products, with our latest range using recycled vinyl records to construct wall clocks, placemats and stunning framed floating records.
Music has the unique ability take us back to a specific memory or point in time, unlike any other media. Combine this with high quality presentation, some fun ideas and a love for great gifts, MixPixie was born.
FAQs
How Do The Artists and Musicians Get Paid For The Songs I Choose?
We Pixies have been busy putting together lists, so that every song in the MixPixie song bank is registered to a record company, publishing company or directly with an artist or band. Each time you choose a song to be included on your album, The Pixies take a note of this and make sure that the people behind that song (i.e. the artists, bands, songwriters, musicians etc.), get the royalties they are owed. MixPixie fully supports all musicians, music companies and the official governing bodies of the music industry.
How Do I Let You Know What Songs I Want On My CD or MP3 Player?
Once you have placed your order simply contact us either through the confirmation email you'll receive or by clicking on the 'ASK SELLER A QUESTION' button on any of our product pages.
How Many Songs Can I Have On My CD?
You can choose up to 10 songs to go on a CD. Due to music licencing for compilation CDs, you can only choose up to 3 of the same artist or band on each compilation. If, unfortunatley, we do not have your chosen track we will contact you for an alternative track choice. If we do not hear back from you we will provide a cover version or similar track.
If I'm Not Happy With My Order, Can I Get A Refund?
At MixPixie, we always try to send you our products in perfect condition. However, occasionally, problems can arise. In the unlikely event that a product is faulty, or it is damaged in delivery or is the wrong item, we ask you to contact us to let us know of the problem as soon as possible. We will then advise you on whether you are eligible for a refund or replacement.
Can You Create A Song Wave Print Of My Own Track?
We're often asked to create song wave prints of original recordings and compositions. If you can send us the audio files (preferrably in mp3 format), we can create a song wave for you.