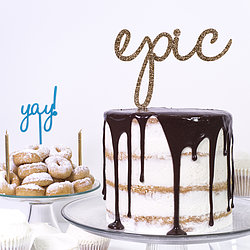 Miss Cake has been giving cakes a voice since 2011! The easiest way to bring life to your cake is to pop a Miss Cake topper in it.
The person behind Miss Cake is Sussex based designer and maker Sarah Davies-Broadhurst.
We offer a range of cake toppers and decorations to liven up any celebration.
We are proud to promote unusual items that we have designed and made in the UK. Our cakes toppers have been featured in magazines and in blogs in the UK, Europe, the US and Australia.
Our products are an easy, affordable and fun way to brighten up and personalise your cake, your wedding and your party.