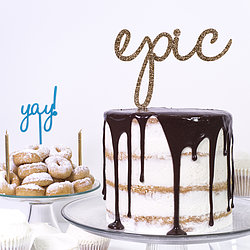 The Story of Miss Cake...
Once upon a time Sarah was a stressed out twenty-something social care worker when BAM! she hit 30 and had a Thrisis (mid-life crisis at thirty). Her then boyfriend Craig had been successfully running his own pest control business for years and suggested Sarah came to help manage his business and set up her own sideline.
Sarah (whilst swiftly avoiding any contact with pests and staying firmly in their home based office) loved baking and rediscovered her long lost artistic side by spending the next half of the year of the Thrisis creating iced works of cake art. Emerging from the icing sugar fog six months later and with a growing hatred of sculpting sugar figurines until midnight Sarah realised that she could find a better way to decorate cakes. After some research she found a gap in the market for fun, colourful and modern cake toppers and with all the thanks to Craig (and the pests) bought a laser cutting machine and taught herself some graphic design.
Sarah started selling cake toppers in 2011 and created a new trend in the UK market with bold typographic cake toppers. With some new ideas and with the help of some custom order requests some best sellers emerged, such as 'He's Her Lobster', 'It's A Nice Day For A White Wedding' and 'He Put A Ring On It!'. The cake toppers are designed by Sarah and made with the help of a laser cutter.
Rewind to 2016 and the cake toppers and pests still work successfully alongside each other. In the meantime Craig and Sarah got married in Sri Lanka with a cake topper with elephants on and with monkeys in the trees and laser cut monkey cocktail sticks, had a baby called Little Miss Cake, moved into an industrial unit and employed some nice people to help them. The cake toppers continue to make cakes speak and Sarah still loves to come up with new topper ideas and loves baking again, though now just for the photo shoots, Instagram, eating and entertaining the toddler.