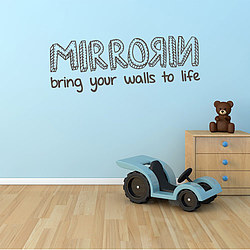 Mirrorin is a UK based company which specialises in the design and manufacture of high quality vinyl wall stickers, fabric wall stickers, metal door signs and giclee prints for children and adults alike. Our product range is continually expanding and we hope to have the perfect product for every customer.
Our collection of stunning wall art is designed to bring your walls to life. Choose from our large product range including animals, pictures for children, popular sayings and quotes for the family home. The use of vinyl wall stickers is limited only by your imagination as we offer a range of colours for you to choose from.
All of our products are made to order in our factory in Lincolnshire. We pride ourselves on quality and attention to detail by using the very latest equipment and the very best materials. Choose from our large collection of vinyl wall art and printed posters to bring your walls to life today!