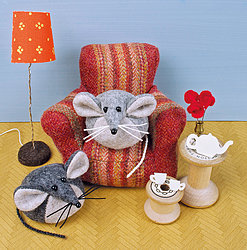 Mirjami Design is a creation of Laura Mirjami who works and lives in the heart of the Cotswolds, UK.
Laura has designed and handmade a collection of animal soft sculptures based on her own stories that she writes alongside her art work. These animals can be used as paperweights and they are now featuring Mirjami Design new greeting cards range.
"I know that my job is well done when customers see the animals as little, individual characters that 'speak' to them. But the best part of my work is to see how the characters make people to smile.
My animals are often bought as good luck charms and they become a part of the family, sitting on a bedside table looking after their owner or living in a car glove box to keep the driver safe! They are also often given as a present to bring some hope or joy at difficult times and I feel truly privileged to be able to make that little bit if difference in life through my work."
Laura's characters are reminiscent of a magical childhood amongst the creatures, forests, lakes and beaches of Finland. Every stitch and fine detail bring her back to a warm and contented place, where inspiring landscapes and fairytale animals were the backdrop to her home and where her imagination ran free.