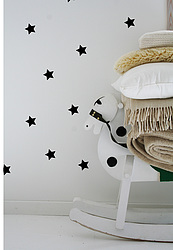 Minna's room is a small business based in London, created with love and passion by Julie and Jenny.
We are getting most of our inspirations in Scandinavia where Julie has just moved to, and
we are always trying to bring new ideas back home from there.
Our products are the perfect and most unique gifts, whether for birthdays, weddings or for christmas.
We love personalised things, but have always thought it was more than difficult to find sophisticated versions.
It is our aim to help make any room look smart and stylish in an instant, yet having added a personal touch to them.
Almost all of our products made and sewn in the U.K., and they are being hand-printed in London as well as in the Swedish countryside.
We hope you like our range, welcome to our little world.
Minna's room's products are subject to Copyright.