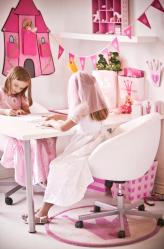 Mini-u is based in Oxfordshire and brings the very best of design for children's interior accessories and toys to the UK.
We source and sell a unique range of children's products designed to inspire and delight children, our products feature themes such as "princess and knight" but also feature gorgeous girls and boys designs to suit any child's room. We believe that "children should be children" and our interior accessories and toys go some way to ensure that children use their imagination to play and enjoy their childhood.
We aspire to source unique children's gifts and accessories, different to those that are widely found on the highstreet today. All our wooden products are hand painted making each item unique to you. We hope that our products bring happiness and enjoyment to the children receiving them.
Our products make perfect christening and keepsake gifts for those special moments, aswell as great birthday gifts for children of all ages and we ensure that all of our offer products exceptional value for money.