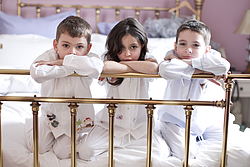 Welcome to Mini Lunn, a vintage inspired collection of 100% cotton nightwear and accessories for babies, children, mothers & brides to be.
Mini Lunn was set up in 2004 by Lizzie James (née Lunn) after having her daughter. Having grown up around beautiful antique clothing from her parents' shop, Lunn Antiques, she decided to create quality cotton nightwear using fun themed embroidery in a vintage style.
Our range has everything you need to get snugly for bedtime! Our children's cotton pyjamas are a favourite with all the family, the best selling designs being the London themed pyjamas for boys and the Gingerbread pyjamas for girls. We also have a beautiful selection of bedroom accessories including our Tooth Fairy Cushion which makes perfect presents for Christenings, new babies or birthdays. We have also introduced a lovely new range of summer dresses for girls. Each dress is handmade with pieces of antique lace making them truly unique and one of a kind.
We specialise in top quality cotton nightwear and silky satin kimonos for woman using vintage designs, beautiful lace trims and delicate embroidery. Our best selling products are our Butterfly Kimono range which is perfect for brides to be or as special gift. Also our Blue Cotton Pj's are perfect for snuggling up in. Our cotton nightwear is made of 100% soft cotton that is comfortable and breathable.
Mini Lunn is a small online and mail order company dedicated to offering the very best customer service. We will take every step to ensure our customers are happy with the product and have a no quibble returns policy.