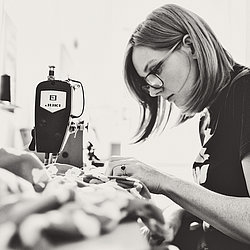 MINI A is a collection of beautiful and practical baby and toddler wear, individually designed and made by the one handed crafter and inspiring designer Allison Allan, who's life took a devastatingturn in 2009 when at the age of just 25 she had a stroke. Allison had to learn how to talk and walk again but her creative streak was very much still alive and with a huge amount of determination Allison learned to sew using her left hand and launched MINI A.
Every piece in the collection is individually handmade using natural fabrics: NZ Merino Wool, Organic Cotton and Cotton. With a commitment to sustainability, environmentally and ethical friendly manufacturing the light modern and breathable fabrics are recyclable and biodegradable leaving only the lightest trace of a footprint on our planet.
A great deal of love and care has gone in to making the collection and it's hoped each piece is loved just as much when it's pulled on time and time again.