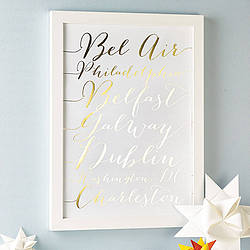 An exciting and innovative design house, Milly Inspired is committed to creating unique gifts for you, and your family and friends. We design personalised prints, paper goods, and much more, all with a distinctive and modern style.
Milly Inspired is the creation of designer Gemma and her partner Russ. We both longed to leave the London nine-to-five and take a more creative direction. So we created Milly Inspired and moved to elegant Farlington, where the business is now based.
We take pride in designing original pieces, and everything you see is designed in-house. Gemma has a passion for uncovering new trends and ideas, and incorporating them into extra-special gifts and homewares. She's currently inspired by luxe metallics and foils, as well as contemporary typography trends.
We care about substance and style in equal measure, so while everything looks beautiful, we also love to weave personal meaning into each design. Many of our personalised products are there to tell a story, like the grandchildren who presented special memories within one of our stylish art prints to their Nan on her 90th birthday.
It's our joy and privilege to create such significant gifts, so if you have a milestone birthday, wedding or anniversary coming up, we'd love to help. Most of our customers are looking for something a little different, a little special, and a little personal, and we're committed to offering just that.
Everything that leaves our studio is subjected to our high standards of design and finish. We're proud to have high customer service values and feedback; we're here to do our best for you.
We hope you enjoy taking a look around our latest designs. Please get in touch if you have any questions.