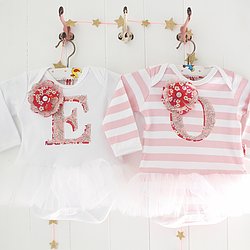 We are a London (Fulham) based Design Company, specialising in quirky baby and little peoples wear. Our designs are made from limited edition Liberty printed cotton, organic jersey, trimmed with buttons and bows.
We are best known for our applique Tutu bodysuits, Birthday T-Shirts and tutu baby knickers . The tutu knickers (nappy covers) are made from Liberty print cotton trimmed with a beautiful double-layer soft nylon tulle tutu.
I am a lingerie designer with over 15 years' experience, working for international brands in far flung places such as New York, Hong Kong and London, and now a full time mother to a beautiful five year old daughter. I have always loved making pretty little things and started sewing dresses, applique t-shirts, tutus, tops and accessories for my little lady.
Every thing is dreamed & designed by me, hand made to order & decorated by me & packed by me!! Hand made in England! (Fulham in London)