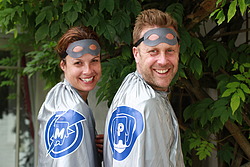 At miioon, we believe in offering our customers products that please both parent and child.
Kids are empowered by co-creating their own products with the help of our lovable (and sometimes cheeky) guides, The Oons. They are given lots of choice through simple picks, we all know kids love choice! Be assured that we have worked tirelessly to ensure that the outcome is guaranteed to be a tasteful one. Comfort and quality matched with designs that all the family are happy as Larry to be seen out and about in.
Team Miioon (aka The Oons) are dedicated to producing high quality, unique and stylish products, offering a point of difference away from the high street. We believe in different, and we are proud to customise all of our products in the UK, whilst offering a 24/7 friendly customer service to boot.
Mama & Papa Oon., Co-founders of miioon.