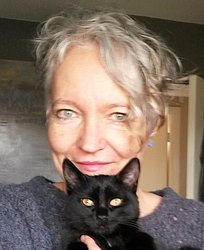 Hello and welcome to my shop at Not On The High Street.
My name is Dee and I make a range of handmade mixed media jewellery.
Originally I was from London but have recently settled with my family in Oadby, Leicester.
I handmake all my own work from my studio based at home specialising in contemporary mixed media jewellery. Each piece begins with a painting. I begin with a large A2 piece of board onto which i layer acrylic paints. The colours I select depend on what is inspiring me at the time, I wait for each layer to dry and then keep adding more colours using chalks or inks until I am happy with the end result.
When the painting is dry I begin cutting it up into shapes, and cover the pieces in resin.
My other collection is called Crytal Rocks. This range is inspired by natural crystal forms found in various geodes and beautiful shards of crystals that I have collected over many years. I take a mould from a crystal and pour coloured resin and precious gold and silver leaf, they have a magical quality and again, like my other collections, no two are the same.
Originally I trained as a ceramic artist but as my family and business grew I merged my creative designs to encorporate jewellery.
Colour, texture, style and design are the keys to my inspiration as you can see throughout the ranges and of course I pride myself in my customer care and attention to detail.