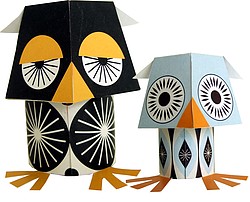 Mibo was established in 2001 by Madeleine Rogers, with the aim of injecting some colour and pattern back into interior design after the long, beige decade that was the 1990s. Madeleine's bold floral and geometric designs were an instant hit with press and public alike.
More recently, Mibo has released a range of award winning, make-them-yourself, childrens' products. These include our ever popular paper animals and cut and sew animal teatowels. Mibo has also recently teamed up with French eco brand Coq en Pate to produce a range of fantastic childrens' accessories all made from organic cotton and bearing Mibo's popular range of beasties.
All our paper animals and teatowels are made in the UK.