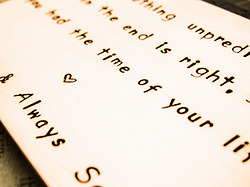 Metal Moments is a small family run business that creates beautiful credit card sized handmade personalised gift cards which fit into a wallet or a purse with a message from a loved one and Personalised Matte Black Hipflasks perfect for wedding party presents and for those special milestone birthdays.
Our highly polished copper and aluminium cards are personalised with a message of your choice up to 150 characters/letters. They are perfect as an anniversary, wedding, Valentine's, birthday, Christmas or special occassion gift, or just as a lovely gift to say 'I love you'.
Our Matte Black Hipflasks are of very high quality and are a cut above the rest. The unique matte colour with the ability to utilise our custom Metal Moments font offers you a unique Hip Flask which stands out from the rest. The golden tones of the text against the black backgroud gives a modern and sleek look to which we are very proud of
Creating Moments That Last Forever.