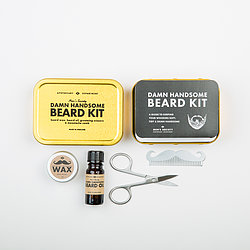 Men's Society is the multiple-award wining British product design brand which specialises in men's accessories and quality gifts.
Witty, sophisticated design with a twist of British quirk are the hallmarks of Men's Society' London. Every area we enter our British style and approach is evident - from Grooming, barware to tabletop and gifts.
Apothecary Department - Men's Society's skincare range is a unique collection of natural skin and body care products made with the finest natural ingredients from around the world including cold-pressed plant oils, raw nut butters and milks, sugars, salts, clays, waxes and pure essential oils.
We create each formulation with effeciency and nature at it's core, blending each product by hand in small batches every four weeks in Britain.
We are proud to be a small company creating wonderful products that enhance your everyday life.
All Men's Society's Apothecary Department formulas are original, created and tested by us, on real people — never on animals.
We also do retail consultancy and product design. We have created, designed and currently manufacture the room amenities for a couple of award winning hotels, have concessions in top retail stores and work with corporate groups for inhouse gifting and promotional events. For a small business we keep very busy! Please do contact us if you would like any information about working with us - we are always open to new ideas and partnerships.
We won NOTHS coveted - Best New Product of the Year 2015 for our Beard Grooming Kit, thank you very much NOTHS! :)