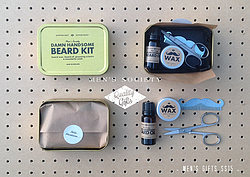 We are Men's Society.
Curators of the most stylish men's gifts sourced from across the globe. With a focus on vintage American design and branding we have put together a collection of fantastic men's gifts and home accessories. Many of our brands are small businesses hand making products in small batches.
From whimsical hipflasks sure to raise a smile to grooming kits, beard oil, wash bags and bottle openers there's a gift to fit any budget. We also cater for the home accessories lover, with super stylish shower curtains from Izola - with the London Underground shower curtain, you'll never get lost again, to a beautiful photograph of Paris; boring bathrooms be banished.
With new lines introduced for each season we have a fresh and exciting range of gifts and home accessories.