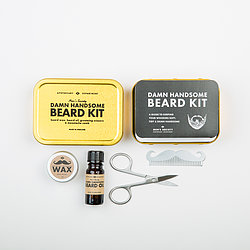 Men's Society is the multiple-award wining British product design brand which specialises in men's accessories and quality gifts. We believe every item we sell and make should be as good looking as it is good quality.
We work hard to source the most excellent items; unusual, quirky classics which delight and do not date, rather improve with age and use. Where we cannot find something we make it - as often as possible in the UK, by hand and using the finest tools available.
Founders Hugo and Bella Middleton have worked hard to curate a selection of men's gifts which they both believe fit their strict criteria of quality and style. Started in 2012 in London, they have slowly established Men's Society as one of the leading independent men's gift and grooming suppliers in Europe.
We also do retail consultancy and product design. We have created, designed and currently manufacture the room amenities for a couple of award winning hotels, have concessions in top retail stores and work with corporate groups for inhouse gifting and promotional events. For a small business we keep very busy! Please do contact us if you would like any information about working with us - we are always open to new ideas and partnerships.
We also won NOTHS coveted - Best New Product of the Year 2015 for our Beard Grooming Kit, thank you very much NOTHS! :)