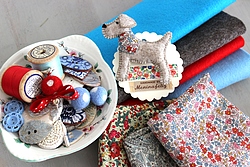 Passionate about felt, colour, print, paper, buttons and beads, Meninafeliz designs and lovingly hand makes a range of gorgeous accessories. With a love of all things quirky and colourful every item is designed and made by hand in my studio in Christchurch, Dorset.
We believe strongly in the recycling ethic, so use vintage and reclaimed fabrics wherever possible and we take great pleasure and pride in sourcing materials from other small businesses.
Thank you for visiting my little boutique at Not On The High Street. If you have any questions about the products, please contact me - i'll be delighted to help!