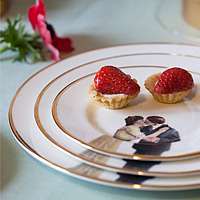 Established in 2011, designer Melanie Roseveare has re-imagined some of Britain's most beloved china into ceramic artistry creating elegant bone china tableware. Each piece features designs that celebrate Britain's gloriously quirky eccentricities.
Launching first with a range of upcycled vintage ceramics, Melody Rose quickly established itself as the highly collectible ceramic brand for the discerning buyer and has been featured in magazines and newspapers all over the world.
In 2013 we launched our english fine bone china tableware range. Working with a third generation pottery in Stoke-on-Trent, England's pottery heartland, each piece is handcrafted keeping at it's heart the tremendous quality that made Britian renowned for its ceramics. Durable enough for every day use, the gilding and glorious detail also make them perfect for the grandest occassions. Mix and match designs to create a unique set of your own.
The collections include Rock and Roll featuring the iconic Skull collection, Urban Nature with eagles, wolves and dragonflies, Modern SurRealist including the Kissing Couple design, London Inspired and the circus inspired Acts of Daring collection.
In creating Melody Rose, Melanie Roseveare combines a lifelong love of ceramics both antique and new, with a passion for design and desire to be eco-friendly.