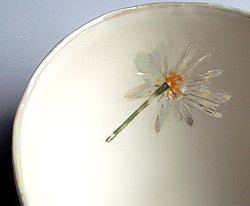 Melissa Choroszewska makes porcelain home decor, accessories and jewellery inspired by the countryside surrounding the Devon and Cornwall.
Concepts such as contrasts and textural qualities inspire Melissa, from the textures found in the cliff faces to the rolling hills and moors, to the sea foam and stunning pearly sea shells!
Melissa also loves the concept of presearving natural beauty and bringing the outdoors in! Many of her porcelain decorations and bowls are pressed with real flowers grown and picked from her Cornish Country Garden.
Each ceramic piece is handmade from porcelain clay and slip in Melissa's workshop in Cornwall. Found objects, such as flowers from the garden are pressed into the slabs of porcelain and then manipulated by hand before being placed within tailor made moulds and porcelain slip is poured on top. Once dry the bowls are removed from the moulds, and the surface and edges are manipulated by hand to produce the delicate, beautiful finish.
The items are bisque fired to 1000 degrees and then coloured glazes and oxides are painted and rubbed into the texture, clear glaze is also applied, the items are then fired to 1260 degrees C.
Mother of pearl luster is applied to selected items and fired to 750 degrees C.