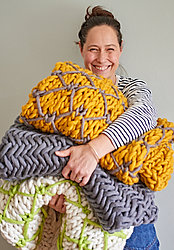 Melanie Porter is a design studio focused on using traditional crafts to create handmade furniture and furnishings to customers looking for truly individual, handcrafted items. Working with clients to create bespoke colour and pattern designs Melanie is dedicated to make every customer feel that they have a beautifully crafted item which fits perfectly in their home.
Melanie Porter knitted chairs have been featured in The Telegraph, Homes and Gardens, Elle decoration and The Sunday Times.
In an exciting development for knitters, Melanie now also offers kits in her chunky handspun British Wool. iKnitIT kits contain all the ingredients necessary to knit your own throw or cushion.