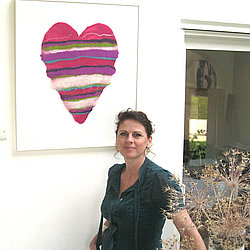 A vibrant and visually exciting, textile collection of hand felted contemporary wall art, jewellery, homeware and a wide range of printed or quirky, hand made personalised cards. Made to order at MAD HQ on the Derbyshire/Leicestershire border.
Using bold colours. iconic inspiration and moody monotones, each piece is hand felted using Merino wool, natural and un-natural fibres, vintage jewellery elements and other treasures. Commissions and enquiries very welcome. The nature of the wool and the techniques used, ensure each piece is unique, this also means they will differ slightly from the images shown.
All orders are beautifully presented and well packaged using recyled and eco friendly materials where possible. Thanks for visiting!