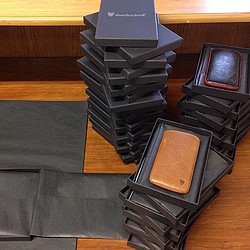 We have a high reputation for our products, and in 2011 were awarded the UK Department of Trade and Innovation's 'Business Innovation Award'.
Our leather cases are designed by us in London, and hand-crafted in Europe by European leather artisans, using genuine European leather. Our earphones are made from wood reclaimed from luxury furniture makers, which would otherwise have gone to waste. This is our first set of earphones, and many product reviews have so far said they sound better than products from Sennheiser, Shure, Denon and Bose, which cost three times as much.
We do not use any plastic packaging, and you can see the packaging for our leather cases and wood earphones on their product pages.