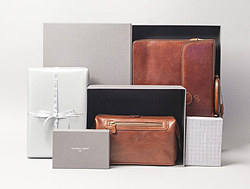 Maxwell Scott Bags is a family run business fusing together British design with Italian style, materials and craftsmanship. The label was created with the philosophy of providing the finest quality luxury briefcases, handbags, luggage and accessories to suit today's demanding requirements.
Each individual creation is beautifully hand crafted to the highest standard, using only full grain vegetable tanned Italian leather. Each hide is carefully chosen, and we also insist on sourcing and using the finest locks, linings and fittings to compliment each design. We still use traditional methods by our skilled Artisan craftsmen wherever possible, however recent technological advances in materials has given us the means to extend the life of our products.
All our bags are made by skilled craftsmen with years of experience. Our knowledgeable skill with leather also gives us a unique ability to offer flawless goods manufactured in the heart of Italy. We remain committed to bring you unmatchable quality whilst being dedicated to the complete satisfaction of each and every customer.
We also promise that each piece will mature beautifully and gain a distinctive worn personality. All our products are designed to be complementary, enabling you to build up a complete collection through time.