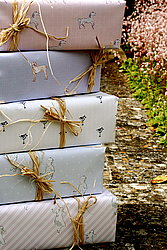 Eco-friendly greetings cards and gift wrap featuring elegant designs by Tilly Long. The collection has a quirky mix of illiustrations, graphics and photography using a variety of subject matters.
Printed in vegetable inks in subtle matt colours on quality paper and textured linen card from sustainable sources.
These designs are suitable for an array of occasions, from thank you cards to new babies and birthdays. They will appeal to both girls, boys, young or old!
As a photographer Tilly has exhibited in a Cork Street gallery - prints may be ordered from the website and all enquiries or commisions are welcome. Tilly hopes to incorporate some of these images into new greetings cards and gift wrap for coming seasons.