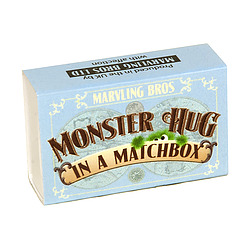 Marvling Bros Ltd are two mums from Essex who are on a mission to bring back the art of giving.
When we researched into people's present exchanging habits we were shocked to discover the amount of unused gift vouchers, unwanted gifts given away and even surplus presents being passed on unwrapped! So we came up with the concept of In A Matchbox, a unique gift experience designed to enhance life, not clutter it up.
Each gift is a little unit of happiness containing a luxury or hard to get hold of item and beautiful messages all packed into a standard sized matchbox. Every box has been filled with luxury, love and laughter, and in homage to the wonderful designs that once adorned these boxes, every gift comes with a collector's card featuring a vintage matchbox label design.
This humble container that once brought light to millions of people is being re-invented by Marvling Bros to contain not literal light but the light of life. So help us on our quest to save the matchbox from extinction. Don't wait for their birthday to show your loved ones you appreciate them. Be spontaneous, be bountiful, be a free spirit and say It In A Matchbox.