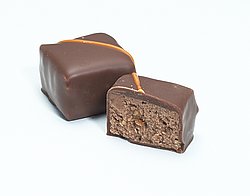 The expertise of Martin's Chocolatier lies in the sheer enthusiasm for the exquisite taste of luxury chocolates from around the globe.
Martin's Chocolatier's desire is to introduce luxury specialist chocolates to a wider audience. Each chocolate has been sourced from a wide range of international artisan chocolatier's from around Europe. Chocolates have been chosen that are unrivalled in taste and texture – made with true, passion, skill, flair and from the finest of ingredients.
Martin's Chocolatier provides these delights in a collection of themed chocolate selections just for you. In addition, a range of premium chocolate bars has now been launched - which include a series of flavours inspired from traditional British puddings.
Designed to test the taste buds and challenge chocolate perceptions that can be enjoyed with friends, family and colleagues.
The essence of Martin's Chocolatier started halfway around the world and that love for chocolate just grows and grows – share the experience and expertise.