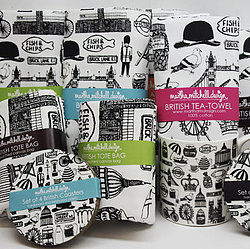 Martha Mitchell Design produces tableware and prints decorated with intricate drawings of popular food packaging. The collection ranges from egg cups to cake stands.
All the products used for the drawings are recognisable everyday food products from popular crisp and sweet packets to Hellman's Mayonnaise and Marmite- the range includes 100's of different food items – so most people's favorites will be included!
The process used to create the tableware is digital ceramic transfer applied by hand then re-fired, because of this method it means each piece is unique and no sequence is ever repeated.
All tableware is dishwasher safe.
Martha Mitchell Design was set up last year by Martha who graduated from Nottingham Trent University with a degree in decorative arts. All work is produced by Martha in her studio in Hove. In the New Year Martha plans to extend her range of products to aprons, tea towels and cushions.