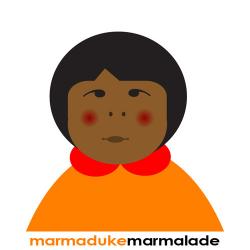 Launched in 2007, Marmaduke Marmalade is a London based greeting cards, stationery and contemporary gifts company.
Frustrated by the lack of birthday cards available representing diverse nationalities, owner and designer Maybelle Peters set about creating a range of characters inspired by the UK landscape and its people. Her unique collection comprising characters of African, Asian and Caribbean origin have been adorned on an increasing range of products including the popular wrapping paper and seasonal greeting cards.
Over fifty characters have been designed and named which initially was only for identification purposes but was helpful in creating individual personalities.
What began as an unsuccessful visit to a card shop has now turned into an exciting business venture.