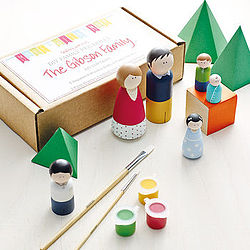 Hi, welcome to Make with Mum. We are a small family business specialising in quality craft kits for fun family time. Our kits are designed to be enjoyed by both adult and child alike, to be a great way to spend family time together, and to allow children to learn new skills. Children are always really proud of what they make, and the completed kits can be enjoyed just as much as the making of the kits themselves.
We only use quality ingredients and materials in our kits. Our paint kits have 6 excellent non-toxic acrylic paints and both the paints and the great brushes are what we use when we paint our own dolls for fun or bespoke orders; our beauty kits are free from Parabens, SLS's Petrochemicals and alcholol. We comply with the strict EU guidelines for soap and cosmetic makers and are members of the Guild of Craft Soap and Toiletry Makers.
The label on the outside of the box can be personalised, making the kits all the more special to your child.
Our craft kits are not simply for mums and their children but also for dads, grans, aunties etc. Crafting and chatting and having fun - the recipe for a great afternoon.