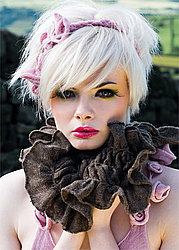 Makepiece is luscious knitwear, made with ethics from British wool and our own sheep.
We design and make intricate, sculptural knits for every occasion from a winter's day warming to white weddings. All our knitwear is made by hand, using British wool, mohair and alpaca in Yorkshire. Our specially designed stitches are knitted on hand operated knitting machines. We're not a big factory, but a small studio-based company creating unique pieces for discerning customers.
We use a dyer in Yorkshire to create our beautiful palette (with an azo and heavy metal free dyeing process) and also to bleach our ivory yarn using a chlorine free process.
Yarn from our own sheep is spun in Cornwall by an eco-friendly spinner, the UK alpaca we use is spun at a water mill in Devon and other yarn is spun in Yorkshire. Some of our fine Bluefaced Leicester yarn is spun in the EU to European eco-standards. All knits from our spring summer 2011 collection onwards come with a small amount of yarn for repairs. At the end of their lives, our knits can be composted.