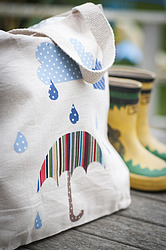 I am Wendy, I love making things and I love the feeling you get from creating something handmade even more, just like that first glass of wine of a Friday night! I wanted to spread this joy and set about designing super simple craft kits and iron on fabric letters that encourage your creative side. The letters are truly unique and come in a wide selection of colours and patterns that are perfect for personalising all manner of things, from bunting and bags to blankets and blouses!
Anybody can get creative with my letters, ideal for people who like the idea of making something handmade but just don't know where to start. All that is required is a little bit of creative energy and an iron, it really is that easy. No sewing, no cutting, no pinning, hurrah!
I work from my home based studio in Kent, with only my radio and magic cutting machine for company (heaven once my children are at school!). Every order is different and it makes me truly happy to think that I am helping others make that Friday feeling on any day of the week!