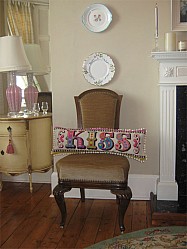 Maison Ami is a company commited to providing luxurious gifts for the home. We are passionate about the quality of our products and we have searched Britain for unique designers and highly experienced seamstresses.
Maison Ami is run by Amie Rydeard who as a mom of two young children wanted to set up a home based business based upon her 20 years of experience in interior design and needlework. Amie combined her two passions and Maison Ami was born.
Our kiss and hug tapestry cushions are designed by Emily Peacock and have been featured in many magazines and newspapers including You magazine. Previously only available as a kit they are now exclusively available ready for you to enjoy.
Our unique cushions look beautiful on a sofa or bed.
Perfect gifts for your home or for someone special.