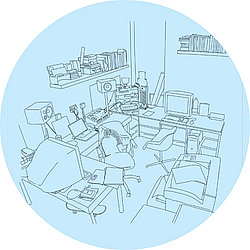 Mags & Paul are a design duo, husband and wife team, bringing together Paul's work as designer and illustrator with Mags' work in interior design, television and silkscreen printing.
Each of our products originally started life as gifts for each other, for our children, or to mark special occasions of close friends (mostly births and 40th birthdays in our case!). If you ask us nicely most of our products can be altered to suit a whole variety of different events or occasions. We like things to be personal.
We are inspired by each other, our children, family and friends, time and recording special moments. We like making nice stuff.
The walls of our house are covered in artworks we have created. We enjoy them and we hope you do too.
We have a seaside studio in Brighton where our products are lovingly created and produced (after Paul's 6am morning dip in the sea)