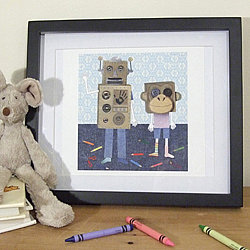 Madi is an illustrator who aims to bring a touch of illustrated loveliness to your world. Nestled in a little town in Dorset, she creates illustrations which she turns into prints, cards, and other gifts, all of which feature her distinctive collage and mixed media technique.
Madi's work incorporates all kinds of different papers, fabrics and textures, often with the addition of playful hand-drawn typography. She has created work for a number of magazines, including Amelia's Magazine and Lionheart Magazine.
Madi's illustrations are inspired by childhood themes, woodland creatures, monsters and her enormous found paper collection, which includes everything from magazines and old envelopes to wallpaper samples and paper doilies.
Madi's shop is full of things which will make you smile, and she hopes you will love them as much as she enjoyed creating them for you.