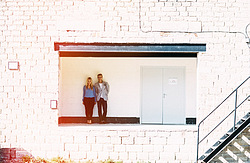 Made With Love Designs started out in 2005, as just a girl in a bedroom, with a head full of ideas and dreams. Out of these dreams a business was born. Clare Fletcher started by creating a small range of handmade weddings and events stationery. Clare met Simon and introduced him to the business, what we mean by this is that on their second date, Simon spent the evening at Clare's dining table sticking name plaques onto wedding invitations….. romantic or what. Well it didn't put him off, in fact he never left…. Clare or the business and now they're true partners, in everything that they do.
After countless requests from customers looking for something a little different Made With Love Designs launched a small collection of hand crafted greetings cards, with the same attention to detail and high quality raw materials as their wedding stationery designs things seriously snowballed. The greetings cards collection has grown into a bit of a beast and now includes many simple printed designs alongside the more traditional.
Now they say that sometimes things happen for a reason, and that is certainly true. At a Cheshire wedding show one cold January, Simon and Clare were sat on their own dining room chairs, being used as props for the stand. These weren't any old chairs… they were pretty swish actually and with fabric scourced from Egypt and designed to their own specification. A husband to be, with that glassy look in his eye that husbands to be have at wedding shows suddenly lit up, he had spotted the chairs. "how much do you want for those chairs ?". A bit of tough negotiating ensued and it ended up with Clare and Simon missing 2 of their chairs, but 500 quid better off. They realized that maybe all of Clare's passion for interiors design could be worth something and so the interiors collection was started.
Now not just any interiors would do, oh no they had to involve a bit of travel into finding the right pieces, with regular trips to the far east, design hotspots like Scandinavia and finding inspiration wandering the backstreets of the Paris flea markets, they take great pride in finding unique pieces that will wow.
Made With Love Designs takes great pride in having designs that will truly standout, taking inspiration from the world of fashion and bringing a bit of catwalk style to areas not used to such stylizing. This reflected in what Simon likes to call "His marketing genuius", what he means is that the company is regularly featured in the written press, on TV and by cool bloggers worldwide. Even the world famous Vogue magazine has featured them on no less than 3 occassions, alongside ITV, BBC, The Daily Mail, Daily Express and many, many more.
The business now has a great space in an old Victorian Cotton Mill on the Lancashire/Cheshire border and with 3 staff and more to come.