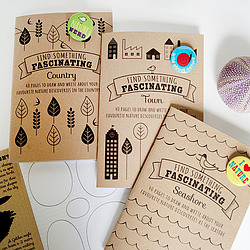 Hello my name is Mrs Booth, welcome to my Not On The High Street shop. I design original, affordable and cheerful gifts for every occasion.
Come in and browse my alphabet friezes, colouring books, stickers, nature notebooks, alphabet prints and badges. All perfect presents for bouncing babies, playful preschoolers and curious kids. As well as gifts for little ones there are Nifty Little Notebooks, greetings cards and wrap for everyone who loves colour, pattern and slightly serious penguins.
My design philosophy is simple - everything is designed to prompt a smile and evoke a fond childhood memory or two. I design everything at my studio by the seaside (which I do like to be beside) and it's all lovingly made in the British Isles by carefully sourced printers and suppliers.
Thanks for visiting, Love from Mrs Booth x
All copyright, design rights and intellectual property rights existing in my designs and products and in the images, text and design of my storefront are and will remain the property of 'Mrs Booth'. ACID membership no: 02547