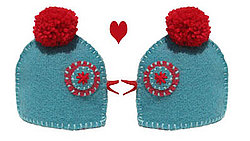 Madeleine Millington works with vintage blankets which is a recycling exercise. The blankets are dyed in contemporary colours and then hand stitched using the technique of applique. Embroidered pieces are worked depicting people, angels, birds, fish, animals and boats.
These highly original designs have various applications such as canvas wallpieces and cards.
Madeleine also designs Blankits, wool applique sewing kits. Blankits provide materials and full instructions for you to make original textile decorations for your home. Beautifully presented, Blankits make fantastic gifts.