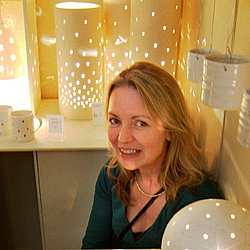 Anna Perring has been developing her collection of playful pierced porcelain tea lights and striking sculptural table lamps in white stoneware since 2001 when she first launched the enduring Luna Snowball.
Her current collection of delicate porcelain tea lights are all hand made in the studio and each one bears the maker's mark with the throwing lines clearly visible. Anna makes tiny holes in the form with a variety of found and made tools and they are very high fired to 1260 degrees so that the porcelain vitrifies and becomes especially translucent and tactile. With a flickering tea light inside the pretty patterns she creates shine through and generate an atmosphere of warmth and sparkle.
With new designs constantly evolving – there are more than 40 in the Luna Mini range now - they are highly covetable and collectable. They also make wonderful unique gifts - a little house design as a house warming present, a heart for a loved one, or stars and Christmas tree designs later in the year - if you can bear to part with them!