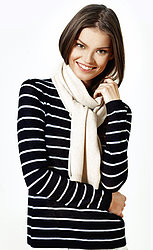 Welcome to our Lullilu store, created for Not On The High Street by the British designer Ronit Zilkha.
Lullilu is a range that is more about a way of life than seasonal pieces; about investing in a small number of co-ordinating items that become wardrobe essentials and last for years. The Lullilu range is about comfort and quality, easy pieces but with quirky signature details.
We believe that there are certain items that will always make a special gift- the cashmere gloves, the cosy hat or the cashmere scarf. Buy any one of them for the special people in your life and you'll be giving them the gift of warm, buttery-soft cashmere that they'll wear again and again for years to come. Because cashmere is for life, not just for Christmas.
Lullilu's philosophy is that getting dressed should not be overcomplicated and that you should invest in pieces, which you can wear from season to season, using them as a blank canvas to style and accessorize as the mood takes you. You'll never again need to worry that you're wearing the same dress over and over again. This is investment dressing at its very best.
Lullilu's cardigans and dresses for girls are designed to fit for years, due to the clever grading.
It's all about investment dressing of your favourite things, and being selective and confident to have your own individuality and style, without being a slave to disposable fashion.
Need help placing an order or have questions about an item or delivery? Then please message us via the 'Ask Seller a Question' button and we will come back to you in a speedy manner.
Love,
LuLLiLu X