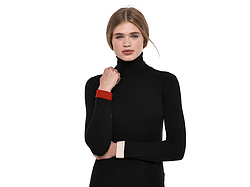 Ronit Zilkha is a world-renowned designer who dressed women from all walks of life for the last 20 years . she is both a name and a brand - and that brand brings to mind quality of both fabric and design.
Her new venture builds is rooted in her winning designs, yet brings a 21st century freshness and an up-to-date philosophy to the table.
Ronit's new range is about a way of life. It's about investing in a small number of cleverly co-ordinating pieces which make a wardrobe and last for years. It's about comfort and quality, easy cashmere pieces, quirky signature details and making new design classics of the future.
Ronit has build her new range around a little girl, Lullilu and everything she makes is designed through a child's eyes. The clothes bring to mind the nostalgia of pieces we remember and loved in our childhood. This is not about giving children endless disposable tops,trousers and dresses from chain stores. It's about having a much-loved cardigan, a cashmere dress to wear with tights and boots; favourite garments to last for years. Each season, Ronit will bring out a small selection of new pieces to build on the previous season's designs. All her garments are designed to be multi-seasonal .
This season the launch of the Audrey dress and a handful of precious pieces for mummy. Her clothes are designed for comfort, class, elegance and longevity. They bring an effortless style and comfort for the modern woman and mother - whether in the workplace or in the home.
LuLLiLu X