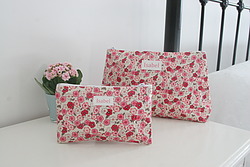 Hello, and thanks so much for taking the time to look at Lucy Lilybet's range of oicloth products.
To give you more of an idea of what I aim to provide my customers, I love pretty but useful things for my home, family - and myself as well! My range includes a wonderful selection of practical foldaway bags, lined baskets for the home and pretty washbags and cosmetic bags - supplied in gorgeous oilcoths, exclusive to Lucy Lilybet. All of my items can be personalised which makes them an extra special gift!
For the nursery and children's section I have a collection of irresistable oilcoth changing baskets, mats - as well as pencil cases, overnight washbags and drawstring bags, in a range of delightful, classic designs.
Importantly for me, all of my oilcloth designs have been made in the UK as my collection is hand-made exclusively in Wales. My aim is to design things that you will be proud to have in your home and that your friends will comment on. Hopefully a few items will take your fancy. Emma x