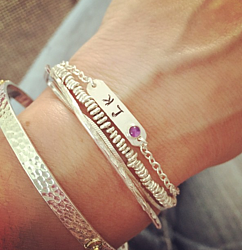 Lucy Kemp Jewellery was started by Lucy Kemp, when an unexpected career change left her in pursuit of a hobby. In 2001 she attended various jewellery making master classes which she found very inspiring and was soon making jewellery on her kitchen table at home. As her designs became grander and equipment became larger she was soon encouraged by her husband to relocate to the garden shed, and soon even the shed became to small for Lucy, so in 2007 she made her passion and hobby into a business.
She opened a shop and workshop in the heart of the picturesque Cornish town of Hayle, which quickly became a popular hot spot for local people who loved her personalised, functional and contemporary designs.
Over the years her little shop has expanded with the business and is now a creative hub for Lucy's small girl team including our apprentice Jen who (as well as singing very loudly) helps Lucy make the jewellery and adds all personalisations to orders , Customer service and dispatch Manager Pansy: who deals with all customer enquiries and makes sure all orders are packaged beautifully and are dispatched to the customers as quickly as possible, and finally super organised general Manager Kat.
All of our jewellery is handmade using recycled Fine Silver, Sterling Silver and 24ct gold and each design is greatly inspired by the stunning Cornish landscape, which can be seen through the use pattern, texture and semi precious stones. Each piece is durable, practical and wearable to cohere with the busy lifestyle of the modern woman and mum.
Customer service and care is of up most importance to us at Lucy Kemp Jewellery and we are always happy to make custom and bespoke items for customers, so if you are thinking about getting a custom piece made, please do not hesitate to ask.
I am a member of Made in Cornwall, Cornwall Crafts Association and Hidden Art.
***WINNER of the Muddy Stiletto Award 2016 for BEST JEWELLERY STORE in Cornwall!
All jewellery is sent in a Lucy Kemp Jewellery Logo linen pouch and wrapped in brown paper and ribbon.