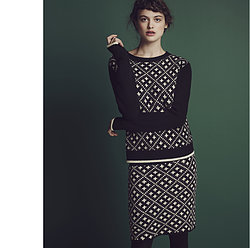 Inspired by the world's rich mosaic of traditional handicrafts whose origins date back to the Middle Ages, Lowie re-interprets these time-honoured practices in a totally modern way - creating timeless yet quirky pieces that people will fall in love with. Started in 2002 by designer Bronwyn Lowenthal, Lowie's philosophy is to produce beautiful clothing as ethically as possible, without jeopardising design. 'We aim to pay our hand makers and small manufacturers a decent price, while small production runs ensure each piece is a limited edition', says Lowenthal.
Lowie consistently produces a tight collection of sought-after pieces using only the finest soft wools, luxurious organic and recycled cottons and top quality leather. Hand-knitting, crochet, hand-stitching and hand-embroidery are also incorporated into many Lowie garments. Each season a print is designed in-house, creating an aspect within each collection that is totally unique to the Lowie brand.
Worn by fashionistas including Liberty Ross, Erin O'Connor, Lily Cole, Fearne Cotton, Rachel Khoo and fashion-forward individuals like you, each Lowie customer appreciates the time, thought and effort that have gone into each high quality, quirky piece.
Lowie takes its ethical stance very seriously. We are proud to be working towards ensuring that our products have a low impact on the environment, and that the people making our products are happy and paid fairly. We always vet our suppliers and advise on how they can make their businesses more environmentally and people friendly and if possible we will choose an organic or sustainable raw material.