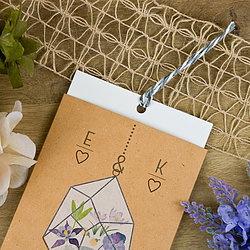 Love Wedding Print was born after creating my own wedding invitations, I was in a fortunate position of working in the family printing business and could use the company's 30 years printing experience and knowledge to great effect. It was a swatch style invitation which included the invitation, information page and RSVP page all fastened together with a beautiful image on the front. We received such amazing comments from our guests explaining how unique they were that I immediately sought to create our own range of wedding stationery, building on the idea of making beautiful invitations of a high professional quality and including the wedding information and RSVP into the invite, meaning our customers would not have to include any loose bits of paper with directions, gift lists etc. into their envelopes.
We continue to create new designs with all stationery items designed, printed and finished in-house at our studio/workshop in Oxford. Using our long standing suppliers we have been able to source great quality paper, envelopes and materials.
We feel privileged to be part of our customers wedding, treating every order as a very special purchase and strive to make the order process as simple, efficient and friendly as possible - providing PDF proofs followed by a complete printed proof before completing the full invitation order .
What makes our stationery different is not only our unique designs and great service but the professional quality of print using the company's 30 years print experience.
We also offer matching stationery in all of our designs to include table plans, place name cards, order of service booklets, thank you cards and more. Please contact us for more information.
We are ready to help you personalise your amazing wedding day.