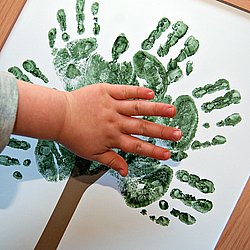 Love Those Prints is a small, family run business headed up by work-at-home Mum of two, Katie.
We have an expanding range of beautiful personalised memory-making prints and gifts perfect for weddings, special occasions & families.
Our very popular Personalised Thumbprint Tree Print (featured in the Perfect Gift Guide 2011) was nominated for a '2011 Make Award' and we are continually expanding this very popular product with new designs and sizes.
The Family Thumbprint Tree (featured in the Christmas Gift Guide 2011) is a lovely way to get the family together and create a lasting momento that is truly unique to you and your loved ones.
Our best seller, the Personalised Hand Print Tree is just the most lovely gift for Father's Day and we have been so overwhelmed by its reception here at Not On The High Street. It was featured in the Father's Day Catalogue 2012 and the Christmas Catalogues 2012 and we've this year brought new and exciting developments to the Hand Print range. Having children myself, I know that the time they are small and have cute little hand prints is a precious one. Products like these can capture that very moment and are so special to look back at.
I'm really proud of the memories we allow people to create and love being an Partner at Not On The High Street.