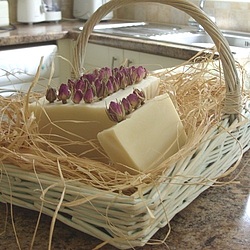 Welcome to the Lovely Soap Company - the home of natural, handmade soaps, bath treats and skincare products.
Situated in a Buckinghamshire village nestled in the rolling countryside of the Chiltern Hills, it's hard to believe we're just 30 miles from the hustle and bustle of London's West End.
Lovely Soap Company was founded with the aim of providing natural soap and skincare products which smell divine and are made using the purest ingredients. We try our best to be environmentally friendly wherever possible, too. Our products contain fresh, natural ingredients such as olive oil, cocoa and shea butters, pure essential oils, dried flowers, and a variety of speciality oils including apricot kernal and sweet almond oils. These are just a few of the lovelies added to make our products skin-loving and kind.
Our products are tested on willing humans (not animals) and are suitable for vegetarians and vegans, except our lip balms which contain some beeswax.
All of our products are fully safety tested by a Cosmetic Chemist and comply with current EU legislation and regulations. We are also proud members of the Guild of Craft Soap & Toiletry Makers.